100% MYCELIUM McKennai - mushroom growkit 1200cc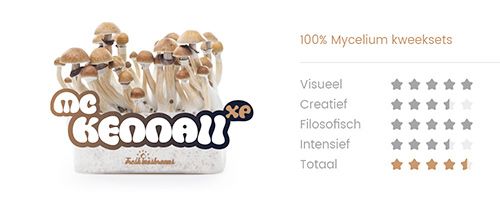 100% MYCELIUM McKennai - mushroom growkit
Avalon's 100% Mycelium kits are 100% colonized by mycelium substrate to get the best yields possible. You don't need to soak these under water, just a little spraying with water every now and then. If you follow the instructions, nothing can go wrong. You'll get the best magic mushrooms with hardly any effort!
Named after Terence McKenna, the godfather of the psychedelic movement, the McKennaii is a rather new strain. She is stronger than the once populair "Hawaiian", which is much tougher to cultivate and grow
This shroom will blow your mind and it's definitely intended for the advanced psychonaut.
For intense philosophical moments and guaranteed visuals!!
Strain origin: The Netherlands
Appearance: The caps are darkbrown and vary in shape from plane to complex convex shapes, The stems are thick and robust.
Strength: 5/5
For instructions: click here
Shipping restrictions

Please check if this product is legal in your country. We cannot send these products to countries outside Europe.
100% MYCELIUM McKennai - mushroom growkit 1200cc
(TheIntriguedPsychonaut)
Great product, more or less in the promised delivery time and although there was a moment of panic after doing the transfer and getting the order cancelled for not confirming on a separate email, Bill answered me relatively quickly and told me there was no problem as long as the reference was ok, and as so I got an order status change the next day and the package still arrived at the expected time.
Evaluation: [out of 5 Stars]
(James)
Speedy delivery with tracking all the way , the kits are great they produce exactly what the manufacturer says if in right conditions
Evaluation: [out of 5 Stars]
(DeMeTree)
Arrived amazingly quickly. Quick and easy to set up. Good customer service.
Just gotta wait and for the mycelium to work its magic now, will update later...
Evaluation: [out of 5 Stars]
(Pimpis)
Best product ever. Fast shipping
Evaluation: [out of 5 Stars]
(Daniel)
I ordered the McKennaii and the Golden Teacher.
Delivery to Germany was less then a week.
After 1 week the McKennaii shrooms start to grow out...3 days later and they were finish (today).
Realy amazing how fast they grow...they looked bigger and bigger at every hour. wow!
The Golden Teacher on the other hand are still not growing (except 2 little heads).
1st flush of McKennaii is now 231g (fresh) will eat 23g (fresh) Shrooms today and will probably post my experience later.
Evaluation: [out of 5 Stars]
(denis )
Best cubensis so far, big yield, great visuals
Evaluation: [out of 5 Stars]