100% MYCELIUM McKennai - mushroom growkit 1200cc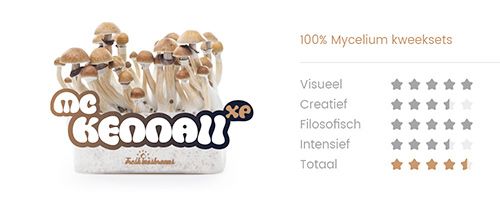 100% MYCELIUM McKennai - mushroom growkit
Avalon's 100% Mycelium kits are 100% colonized by mycelium substrate to get the best yields possible. You don't need to soak these under water, just a little spraying with water every now and then. If you follow the instructions, nothing can go wrong. You'll get the best magic mushrooms with hardly any effort!
Named after Terence McKenna, the godfather of the psychedelic movement, the McKennaii is a rather new strain. She is stronger than the once populair "Hawaiian", which is much tougher to cultivate and grow
This shroom will blow your mind and it's definitely intended for the advanced psychonaut.
For intense philosophical moments and guaranteed visuals!!
Strain origin: The Netherlands
Appearance: The caps are darkbrown and vary in shape from plane to complex convex shapes, The stems are thick and robust.
Strength: 5/5
For instructions: click here
Shipping restrictions

Please check if this product is legal in your country. We cannot send these products to countries outside Europe.
100% MYCELIUM McKennai - mushroom growkit 1200cc
(Speechless)
I got this box and it was the first time I EVER grew mushrooms myself. I got 3 flushes. First 142g wet, second 70g wet, last 30g wet. Dried I had around 25 g. Lots of Shrooms grew on the side, I guess next time I darken the sides with foil or something. I take mushrooms very serioulsy and as medicine to heal and experience but not just for fun. I alsways get deep insights and I am very thankful for that. Shipping was very quick. Thanks for that!
Evaluation: [out of 5 Stars]
(Lotte)
This strain was my first order and also my first mushroom growkit in genereal. I have made a few mistakes at the beginning as there were fluctuating temperatures for example. Therefore the fruiting took a bit longer and it could be a better yield perhaps but the potency makes up for it !
Nevertheless I'm not sure if there is enough moisture if you follow the instructions and do not spray any water - after 10 days I sprayed inside and had the feeling that it speeds up the fruiting process.

All in all I highly recommend this strain and will buy it again for sure !
Evaluation: [out of 5 Stars]
(Stefan)
Very disappointing.
Had the same grow boxes as Golden Teachers before and they were great. These were not - in total 35 grams dried out of two (!) boxes - did everything as before but had very few mushrooms. Second and third flush were virtually not existent (3-4 shrooms).
Unfortunately the potency was also quite a bit lower than the Golden Teacher's.
Maybe it was just a bad batch, but looking at other newer reviews the quality seem to be slipping. If that continuous it would be very sad news.
Evaluation: [out of 5 Stars]
(John)
Did not grow well at all...they changed to cheaper bags I believe caused the issue. I have done them several times before with good luck but this time did bad...only 7 grams total dry no second flush
Evaluation: [out of 5 Stars]
(Christian )
At the beginning I was not very enthusiastic about the box as they only dropped very few mushrooms and mostly had side pinning.
But those few mushrooms had it! Not for people who are easily seasick: D
I recommend a dose of 2g dry mushrooms "(mushrooms dry properly with aluminum sulphate, do not dry with heat! They need to break like chips, only then can they be dosed correctly.) If the mushrooms bend, they still contain water). "If it is still comfortable.
Beginners should start with a dry amount of 0.5g to 1.5g.
When I'm alone, a mikrodosis (0.8g) of this strain is quite enough for a chilly evening and beautiful dreams. These mushrooms are really very potent!
Evaluation: [out of 5 Stars]
(ben)
First Kit 1st Flush: 3 grams... email to avalon --> sent pics of the first flush --> got a new box. Thank you for the great service at this point! ... Second Kit 1 Flush: 10 Grams dried. All the the other boxes i ordered here years ago had like 50-70 g first flush dried. I dont know what happend to this kits but its not like they used to be..
Evaluation: [out of 5 Stars]