Elon Musk is sending cannabis to the International Space Station
Posted on: 02-01-2020 om 10:55:54 | Avalon Magic Plants
A couple of weeks ago, a SpaceX Dragon capsule reached the International Space Station. Inside it was almost three tons of cargo for a wide variety of purposes. Much more interesting, however, is the trip that has been planned for March this year. Why? Well, the Agri-tech company Front Range Biosciences announced that it will be sending a load of cannabis to the ISS with the assistance of Musks SpaceX. 
Cannabis in outer space
So what's the purpose of cannabis in outer space? To those thinking the astronauts will be enjoying some tasty space brownies or vaping the powerful green herb, we have disappointing news: the cannabis samples that SpaceX will deliver are of the kind of hemp that hardly contains the psychoactive ingredient THC which gets you high or stoned. You probably know hemp is used for all kinds of purposes, including the creation of clothing, food, building materials and biofuel. 
In addition to hemp, the agricultural tech company Front Range Biosciences also sends coffee tissue samples to the space station to investigate how these plants react in micro gravity. Plants react rather strangely in space and it is still unclear to scientists why that is. The hemp and coffee cell tissues are to be grown for 30 days in a special incubator aboard the space station. Then the monsters will be flown back to earth for futher research. Scientists from Front Range Biosciences will examine the samples in the lab and see how micro gravity and space radiation affect the gene expression of the plants.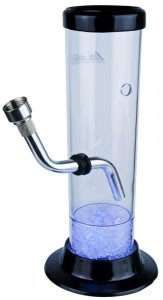 Want to enjoy cannabis the right way? Take a look at our headshop to find everything you need, such as vaporizers, scales, bongs, pipes, grinder and other smoking accessoiries!
Mutated marihuana?!
According to Jonathan Vaught, co-founder and CEO of Front Range Biosciences, there is a scientifically proven theory that plants undergo mutations in space. The experiment therefore offers a unique opportunity to see whether these mutations also persist when they return to Earth. "This is one of the first times that someone has been investigating the effects of micro-gravity on hemp and coffee plant cells. There is scientific reason to expect that plants in the space undergo mutations. This is a possibility to see if those mutations hold when the plants return to earth and whether new, commercial applications can be extracted from them."
So while the launch of cannabis-material isn't meant to offer astronauts an even more exciting trip at this moment, the research about how material grows in outer space does give us new insights about how certain material, including cannabis, will survive in far away lands when space travel will become more frequent. Growing crops for fresh food is vital for astronauts who are away from the earth for years to come, and let's be honest: it will make being alone for those long periods of time much more bearable with some tasty cannabis, don't you think?
Brewing beer on Mars
And while SpaceX is making efforts to send our much beloved cannabis to space, another company is trying something similar with another product we love so, so much: beer. Brewer Budweiser is doing everything it can to become the first beer brewery when humanity reaches Mars, as it's already learning how to do it in zero-gravity environments. The company has been sending barley seeds to the International Space Station since 2017, and just last resupply mission to the ISS, it has sent even more. "Budweiser is always pushing the boundaries of innovation and we are inspired by the collective American Dream to get to Mars," said Ricardo Marques, vice president, Budweiser upon launching the program two years ago. "We are excited to begin our research to brew beer for the red planet." Stay tuned!
Back